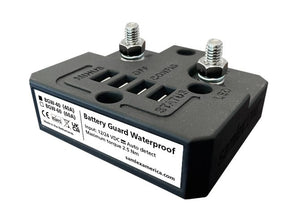 BGW-40 Samlex America 40 Amp Battery Guard
BGW-40
This item qualifies for free ground shipping within the continental USA only.
The BGW-40 replaces the BG-40.
The Battery Guard Waterproof BGW-40 is an intelligent, user programmable, fully waterproof battery guard. The battery guard prevents excessive discharge of the battery (which would damage the battery) and protects electronic appliances against overvoltage. Includes "Automatic Board System Detection"; the BG automatically detects the battery voltage (12 or 24V). The BGW-40 battery guard is capable of carrying 40A continuous load and 45A transient load. There is a choice out of 10 on/off threshold voltage programs, for both 12V and 24V battery systems, which can be easily programmed. The BGW has additional options for a remote off switch and an alarm output for connecting a buzzer, LED strip or relay.
Can be set to connect / disconnect at several different  voltages with jumpers
Batteries last longer
Prevents damage to connected components
Prevents excessive voltage caused by faulty alternators or chargers
Fully waterproof
Specifications
Input: 6-35 VDC
Output: 6-35 VDC
Amps: 40 Amps
Weight: 0.4 (lbs)
Weight: 0.2 (kg)
Dimensions: 2.44 x 2.83 x 1.26 (in)
Dimensions: 62 x 72 x 32 (mm)
Attention California residents: Proposition 65 Warning: Some of the products sold through this website contain/may contain chemicals known to the state of California to cause cancer, birth defects or other reproductive harm.
---
We Also Recommend
---