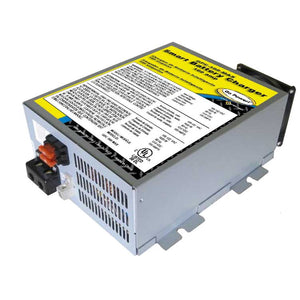 100 Amp Battery Charger 12 Volts 1 Battery Bank GPC-100-MAX
GPC-100-MAX
 This item qualifies for free ground shipping within the continental USA only.
The Go Power! 100 amp charger is used to charge your 12 volt batteries using AC power. the GPC-100-MAX provides 100 amps continuous power and can be used as a 1400 watt DC power supply as well as a charger. Go Power! battery chargers are reliable, compact and lightweight.
All models feature switchable output modes, one for float charging and one for rapid charging, and a four-stage charger, with an automatic "equalization" stage to periodically boost charge batteries. This is especially useful for batteries which often sit idle for long periods.
This unit is designed for flooded lead acid and AGM batteries only. Gel cells can be damaged by the higher charge voltages of this unit.
100 amps of continuous DC power
AC male power cord for hooking up to AC power
4 stage battery charging
Light weight design
Fuse protected on DC side
Mount upside down or on any angle
Can be used as a power supply
2 Year Warranty
---
We Also Recommend
---