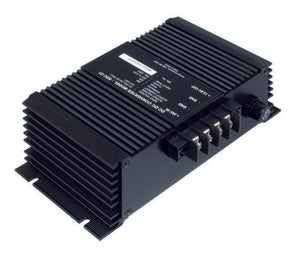 SDC-23 Samlex America 24VDC to 12VDC Converter, 20 Amps
SDC-23
This item qualifies for free ground shipping within the continental USA only.
The Samlex America SDC-23 is a high efficiency switch-mode step-down DC-DC converter which converts an input voltage of 24 VDC nominal (range 20 VDC to 30 VDC) to a highly regulated output voltage of 12 VDC nominal (13.8 VDC) at 20 Amps. The Samlex America SDC-23 DC-DC converter is non-isolated (no galvanic isolation between input and output) and meant for use in negative ground systems. Features include overvoltage/short-circuit protection, temperature compensated current limit, output-side overvoltage protection, input-side overvoltage/ transient protection and input-side reverse polarity protection. The SDC-23 DC-DC converter is designed for heavy duty applications.
Advanced switchmode design
Mount in almost any location
Compact and light weight
Reverse polarity protection
High efficiency
Current limiting circuit
Overvoltage crowbar circuit
Non-Isolated for negative ground system
Attention California residents: Proposition 65 Warning: Some of the products sold through this website contain/may contain chemicals known to the state of California to cause cancer, birth defects or other reproductive harm.
---
We Also Recommend
---