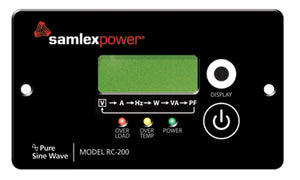 RC-200 Samlex America Remote Control
RC-200
This remote has been Discontinued. If the serial number on the PST-1500 or PST-2000 power inverters has a date of manufacture greater or equal to 1744 (middle digits of the serial number) then you must use the RC-300, earlier models use the RC-200, which is no longer available.
Samlex America RC200 Optional wired remote control for use with models PST-1500-12, PST-1500-24, PST-2000-12, PST-2000-24.
LCD displays AC Volts, AC Amps, frequency, power (watts), and power factor
LED Indicators for overload, over temperature and power
Includes 15' cable
Dimensions - 4.33 x 2.56 x 0.97 (in)
Attention California residents: Proposition 65 Warning: Some of the products sold through this website contain/may contain chemicals known to the state of California to cause cancer, birth defects or other reproductive harm.
---
We Also Recommend
---