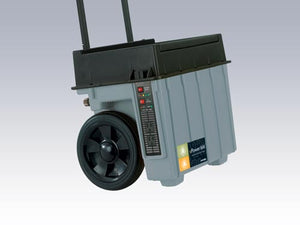 802-1500 Xantrex XPower Powerpack 1500 Electronic
X1500
Features of the Xantrex Xpower 802-1500:
An integrated design combines a 1500 watt inverter (1350 watts continuous), with a 51 amp-hour battery. Accessories for recharging are included.
Runs 115 Volt AC or 12 Volt DC Products

- anywhere

Provides Emergency Power

- when the power goes out

Requires No Maintenance

- safe for indoor use

Recharge At Home or From a Vehicle

- with included accessories

Rugged Design

- rolls easily over rough terrain
AC Power
XPower 1500 provides 1350 watts maximum continuous (1500 watt 10 minute power output) with a 3000 watt surge capability.
5-amp AC charger provides plug-in-and-forget charging.
Comes with two standard outlets for running simultaneous applications.
Shuts down automatically when overheated, when there is low battery voltage, or in over load conditions.
DC Power via the DC Power Socket
Supplies power to any 12-volt DC product.
Allows recharging of xPower 1500s battery from a vehicles 12-volt power outlet.
xPower 1500 is also able to jump start a vehicle using the DC Charging Cable in about 15 minutes.
Operating time of AC powered appliances can be increased by using the DC Charging Cable to connect one xPower 1500 to a second.
DC Terminals allow use of standard cables for jump starting a vehicle or supplying power from a second 12-volt battery source.
Battery and Charging System
Rechargeable, 51 amp-hour, high quality, lead acid battery requires no maintenance.
A multi-step charging system fully recharges the battery from a wall outlet and will maintain the battery at its optimal recharged state when left connected to the AC charger and standard household power (120 volts).
Recharging takes about 10-12 hours using the 5-amp AC Charger and utility power. By using the DC Charge Cable, XPower 1500 can be recharged in 6-8 hours from the 12 volt outlet in a vehicle.
Battery Status Indicators on xPower 1500s AC Power Panel display the stored energy level.
Industrial Design
XPower 1500s portable size (15.6 X 13.0 X 16.4) and weight (60 lbs.) along with its sturdy frame, wheels and handle, make XPower 1500 a true go anywhere power source.
The rugged housing protects battery and electrical circuitry allowing XPower 1500 to be used outdoors and indoors.
Accessories for xPower 1500 are held in the built-in Accessory Storage Compartment.
xPower 1500 Specifications:

115 Volt AC (inverter section)

AC output voltage
115 volts AC (nominal)
Maximum continuous AC output power
1350 watts
Maximum output power - 10 minutes
1500 watts
Maximum AC surge power
1300 watts
AC output frequency
60 Hz +/- 4 Hz
AC output waveform
Modified sine wave
Inverter no-load current (battery drain with no load on inverter)
<0.2 amps
Operating temperature range
32 F to 104 F
(0 C to 40 C)
Low battery alarm trigger point
10.7 volts (nominal)
Low battery shut down point
10.0 volts (nominal)

12 Volt DC Section

Internal battery type
Sealed AGM lead acid
Internal battery voltage (nominal)
12 volts DC
Internal battery capacity
51 amp-hours
Maximum load current through 12 volt DC power socket
12 amps (continuous)
DC power socket circuit breaker rating
12 amps (automatic reset)

Mechanical Specifications

Dimensions
15.6" x 13.0" x 16.4"
(39.5cm x 31.3cm x 37.0cm)
Weight
60 lbs
---
We Also Recommend
---