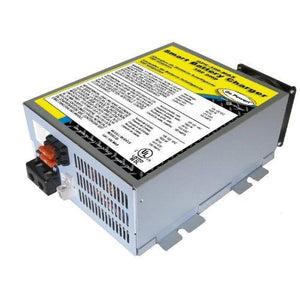 45 Amp Battery Charger 12 Volts 1 Battery Bank GPC-45-MAX
GPC-45-MAX
 This item qualifies for free ground shipping within the continental USA only.
Go Power! Smart Battery Converter Chargers offer fast, accurate battery charging at a reasonable cost. Using state-of-the-art, converter switch-mode technology, Go Power! Battery Chargers are reliable, compact and lightweight and are designed specifically to extend the life of deep-cycle battery banks. For RV systems, they feature high continuous output to feed your 12- or 24-volt loads when plugged into shore power.  Our smart chargers are included in both the Solar Extreme and Solar Elite systems.
All models feature switchable output modes, one for float charging and one for rapid charging, and a four-stage charger, with an automatic "equalization" stage to periodically boost charge batteries. This is especially useful for batteries which often sit idle for long periods.
This unit is designed for flooded lead acid and AGM batteries only. Gel Cells can be damaged by the higher charge voltages of this unit.
Features and Benefits:
GPC-MAX Series
4 stage battery charger with bulk absorption and float stages
Easy Installation
Fuse Protection
Thermostatically Controlled Fan
Lightweight Design
2 Year Warranty
---
We Also Recommend
---